Ripple prices flat-line below 34 cents
Jake Chervinsky, a crypto lawyer, believes ongoing civil suit against Ripple will settle next year
Volumes low, averaging 15 million.
Eventual clarification of XRP's status will either cause a rally or a meltdown as owners liquidate their holdings escaping SEC's incoming oversight. At the moment, prices are stable and ranging inside a 4 cents range with caps at 34 cents.
Ripple Price Analysis
Fundamentals
Unlike others, Ripple Inc is bogged down by regulators and difficulty of conclusively interpreting what Howey Test means for blockchain assets. It is a concern that a former SEC member, Michael Didiuk, has come forth to clarify that from his analysis, Ripple (XRP) is not security insisting that "XRP is a currency. The reason why is […] Howey test… It's a 4-factor test – Investment of money in a common enterprise with the expectation of profits based on the efforts of others."
Should any court finding find them—Ripple Labs entangled in several civil action suites—liable then it is likely that the SEC will declare the asset security. However, the judgment is set to drag on mostly because of red-tape and SEC as a mandated agency vested with powers to declare any asset security or utility.
In a tweet storm, Jake Chervinsky, a prominent crypto lawyer from Kobre & Kim said "even though we've been talking about the Ripple securities litigation for almost a year, the case basically just started this week, and it'll be a very long time – another year or more – before anything exciting happens." He continued saying, "after the consolidated complaint is filed, Ripple will *finally* have to submit a substantive response. I expect that will be a motion to dismiss, arguing that the allegations in the complaint–even if true–don't add up to a violation of the securities laws."
Candlestick Arrangement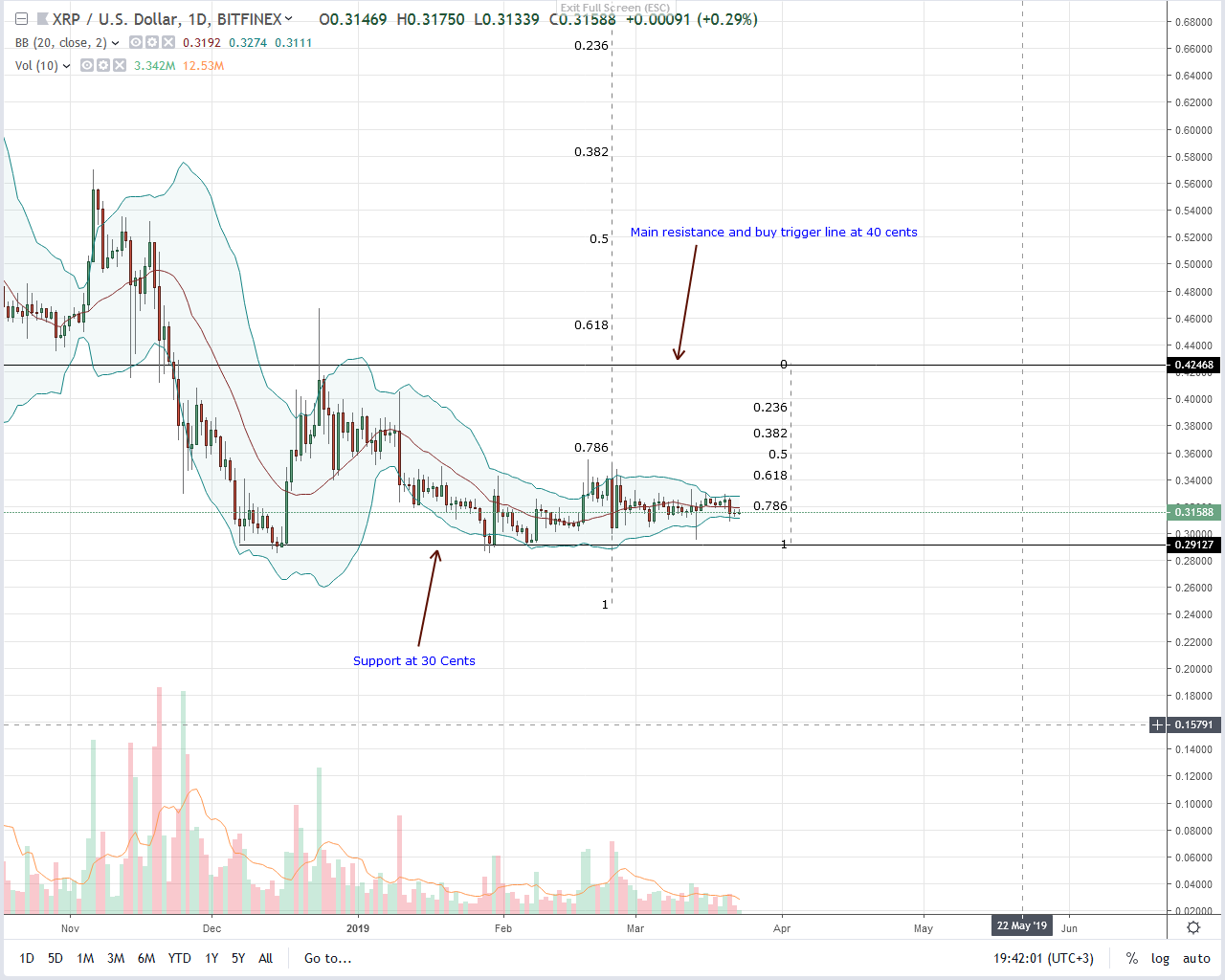 At third, Ripple (XRP) is under pressure with tight price movements in the last month or so. It is down 1.2 percent in the previous week, and because of low volatility, our previous XRP/USD trade plan is applicable.
As mentioned, our buy trigger is at 34 cents with firm supports at 30 cents. We emphasize that it is after a high volume bar prints that we can initiate longs or shorts depending on the direction of the breakout, a result of the BB squeeze in progress.
Expectedly, the confirming bar must have high trade volumes above recent average of 14 million and more importantly 61 million of Feb 24.
Technical Indicators
As aforementioned, our anchor bar is Feb 24—61 million and even though bearish, subsequent bars—aside from those of Feb 25—had low volatility. Therefore, for trend confirmation—translating to a break above 34 cents, the breakout bar must have print above 61 million triggering a rally that could drive Ripple (XRP) above 40 cents.
Chart courtesy of Trading View