Ripple prices drop but bullish
Bahrain based Rain will offer six XRP trading pairs to their clients
Transaction volumes low averaging 15 million
Rain is the first crypto exchange to graduate from SRB's sandbox and is Sharia compliant. With Ripple presence in Middle East pronounced, XRP prices may respond driving them above 34 cents and later 40 cents in a wave that will cement bulls of late Sep 2018 and those of Jan 30.
Ripple Price Analysis
Fundamentals
At the back of any successful cryptocurrency project is liquidity and Ripple is doing a fantastic job as far as availing the currency to investors. Three months after the vicious XRP Army—said to be a network Twitter robots keen on twisting public opinion on XRP—succeeded in convincing Changpeng Zhao of Binance to make the coin base, Ripple (XRP) is finding a foothold in the Middle East.
At the back of positive comments from Dilip Rao, the Global Head for Infrastructure Innovation at Ripple, while issuing a keynote at the Global Islamic Economic Summit in Oct 2018 said XRP "aligns well with Islamic finance principles." He adds that Middle's East plans of transitioning to blockchain"is a fantastic way to encourage innovation."
Now, Rain, a Bahrain based cryptocurrency exchange, is the latest platform that will offer XRP trading pairs–XRP/BHD, XRP/SAR, XRP/AED, XRP/KWD, XRP/OMR, and XRP/USD, in a regulatory compliant manner. Abdullah Almoaiqel, one of the exchange's co-founder, said their graduation from SRB's sandbox is a "major milestone in the cryptocurrency and Islamic markets" and "this is the implementation of Rain's mission to provide the Middle East with a cryptocurrency exchange that meets the highest standards in terms of regulation, accessibility, security, and trust."
Candlestick Arrangement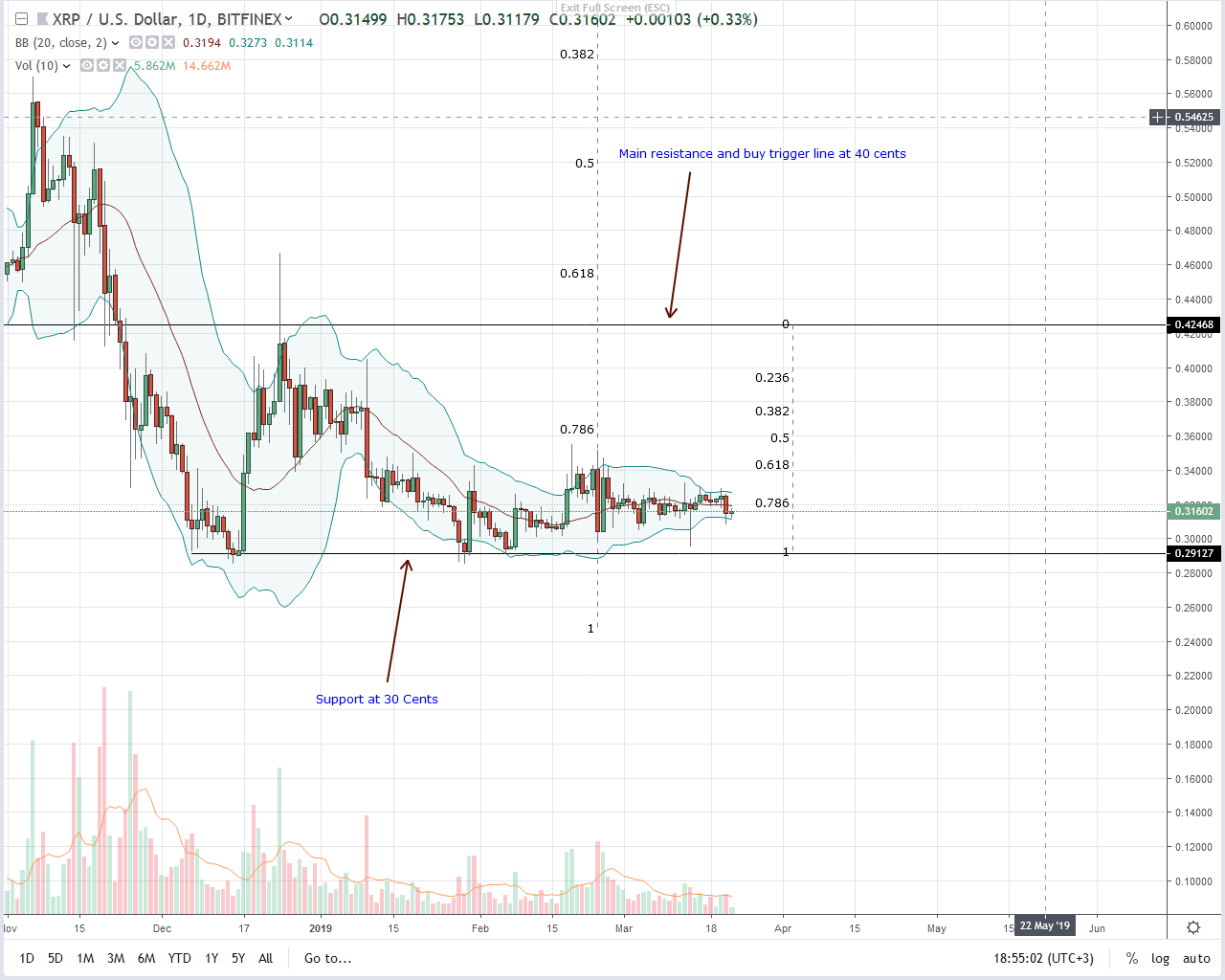 Down 1.2 percent in the last day and pretty stable in the previous week, Ripple (XRP) prices are like before, ranging. However, from the candlestick arrangement, it is likely that volatility will increase in the next couple of days.
From the chart, our support is at 30 cents and resistance at Feb 24 highs at 34 cents. Even so, before we suggest longs, traders should take a neutral stand and notice that the majority of the last two month's price action is oscillating inside Jan 30 high low.
The bar is bullish meaning buyers have a chance in days ahead. Unless otherwise our plan is invalidated by a break below 30 cents, we are net-bullish expecting a rally above 34 cents.
Technical Indicators
Although Jan 30 bar is a standout, participation levels are low averaging 15 million even after yesterday's draw-down. That is normal, and as mentioned before, any break above 34 cents or 30 cents must have high volumes above 65 million of Feb 24.
Chart courtesy of Trading View